Hovercraft Racing
When most people think of Hovercrafts they think of day trips to France. But this is completely different . These were designed for FUN!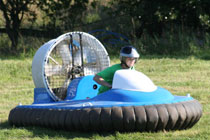 Certainly when the hovercraft was invented in 1956 no one could have foreseen the future of this remarkable machine. The inventor, Sir Christopher Cockerell's idea was to build a vehicle that would move over the water's surface, floating on a layer of air thus reducing friction between the water and vehicle. His hypothesis was originally tested in 1955 using an empty KiteKat cat food tin inside a coffee tin, an industrial air blower and a pair of kitchen scales!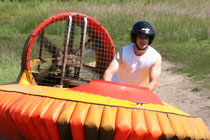 Their ability to travel over land and water makes them unique – there really is no other experience quite like it. Racing today is likely to be done using single seater, 670cc, formula 3 hovercraft. Learning to control them is not too challenging as they use traditional steering and a throttle. Hovercraft racing is a truly breathtaking sport. It's fast and exciting both to participate in and to watch.
Please click here for further details of our hovercraft racing experiences.