Flying lesson with Landaway for Two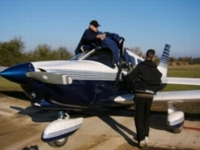 Light aircraft trial lesson
After a pre-flight briefing you will fly along the Severn Estuary/coast with fantastic views of mountains and sea. You will land at another local airfield for refreshments and the fly back. Flight conducted by locally based operator.
What's included
Many pilots, whether amateur or professional, often agree that the favourite part of their flying is, 'the landings'. An oft-heard flying instructors' adage is: "Anybody can fly an aeroplane, but it takes a pilot to land one".
All 'trial lessons' involve at least one landing, but we also offer a special 'land away' experience - ie two landings as part of the same experience.

Typically, your trial lesson flight will commence with a pre-flight briefing, and once airborne (from our base) you will fly along the Severn Estuary, and the coast towards the Gower, or over the Brecon Beacons - seeing the Magnificent Severn Bridges on your return. Following a quick view around the peninsular, we will land, usually at Swansea airfield, alternatives are Shobdon or Kemble.

After refreshments, return to the base where you will learn about the aircraft and auxiliary systems. The experience will take approximately 3 to 4 hours including ground briefings. Once we are fully airborne from the runway YOU will be in control!
This package is a fantastic pilot experience for two people! The first student pilot takes approximately 35 minutes at the controls, flying the two of you to a local airfield under the guidance of your flight instructor. Take time out at the airfield for a tea or coffee, then swap around and the second student pilot take the controls for the return leg.
Also suitable for one person who wishes to fly both ways for a total of at least 75 minutes flight time.
A land away experience can also be a revelation for anyone thinking of taking their pilots licence. In terms of the ease of covering distance, even our 125 mph touring & training aircraft can achieve a trip between airports in 30 minutes, which if attempted by road could take hours.


Voucher
Each voucher entitles up to 2 people to participate in this experience. The voucher is transferable, which means that anyone can use it. The voucher remains valid for bookings for 9 months from the date of purchase. Please contact the operator using the details printed on your voucher to arrange a date for your event.


Special Conditions
Maximum weight is 15.5 stone (98 kg)
Maximum height is 6' 6" (1.98 m).
Minimum age is 14 Years (adult supervision required on airfield premises for under 16's), and no upper age limit!.

Refreshments are available at any time, and lunch is optional. Please remember to take some extra money if you would like to include a lunch stop.

We also require two forms of identification in order to fly, one of which must include a photograph. NOTE: This flight is conducted by locally based operator.
Booking your event
We recommend that you purchase your voucher and make a booking for your event at least one month prior to your chosen date. This is particularly important for weekend events.