About Flights in Spitfires
The Spitfire is the most famous British fighter of World War II and has an enduring appeal for aviation enthusiasts everywhere.


Production of some 40 different variants of the Spitfire took place throughout WW II and after. They served in every combat area, operating as fighters, fighter-bombers, reconnaissance aircraft and carrier-based fighters with the Royal Navy.
FLY WITH A SPITFIRE
Yes. We really do mean it. This is your chance to get up close to one of these wonderful flying machines in the air.
Whether young or not so young, who doesn't feel an emotional link with this magnificent aircraft. Whether from personal experience; parents/grandparents tales or war time films it really is hard to not to feel something when we see these wonderful machines in action. Add the sound of being up close and it is almost too much to bear - a very emotive experience..
From the comfort of an executive helicopter you will be flying alongside BM597, the Mk Vb Spitfire of the Historic Aircraft Collection, normally flown by Charlie Brown, one of the most experienced Spitfire pilots in the world. As we fly, the Spitfire will chase our helicopter across the Kent countryside - a thrilling sight as she flies by ­ close enough to exchange a wave with the pilot!
Marvel at her manoeuvrability ­ even 70 years on, she takes your breath away. With a little imagination, you will feel what it must have been like to meet up with a Spitfire - either as friend or foe.
Our 'Fly with a spitfire' experiences go from Lydd in Kent and start at just £340.00:
Bronze Spitfire Experience £375.00 £340.00
Fly Wing To Wing With A Spitfire - Squadron Leader £453.90 £413.90
Silver Spitfire Experience £500.00 £445.00
Fly Wing To Wing With A Spitfire - Wing Commander £656.38 £596.38
Gold Spitfire Experience £750.00 £665.00
Fly Wing To Wing With A Spitfire - Air Commodore £892.63 £812.63
Platinum Spitfire Experience £1,125.00 £1,025.00

WHAT'S THE NEXT BEST THING I CAN ACTUALLY FLY?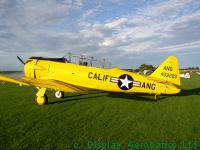 There are alternatives that we can offer which will give anyone a fantastic experience. If the interest is in historical aircraft then you could arrange a flight in a Tiger Moth. If you are seeking the sense of speed, agility and the g-forces that an aircraft can offer, then we have an unbeatable choice of aerobatic flights led by ex-RAF flighter pilots and UK aerobatic champions. Or, you might wish to fly the most powerful aircraft in our collection, the mighty WW II Harvard "Texan" - this is the demanding aircraft that every Spitfire pilot has to master first.


Find out more about flying a Harvard


If you are determined to fly, and you want achieve an experience as close as possible to the unattainable reality of a Spitfire flight, then you need to select a flight in an Extra 300 - rated by many pilots as easier to fly and even more delightful than the original Spits.
Spitfire Mark I/II
Revell 1:32 scale model kit
Single engine fighter from 1938. Length 282mm, Wing Span 348mm with 82 parts.
HISTORY OF THE AIRCRAFT
See also: light aircraft.
ONLINE LINKS
BOOKS
Martin Davidson, James Taylor

| | |
| --- | --- |
| | The Battle of Britain, 1940, was one of the most famous air battles in the history of warfare and it is a story of ruthless organisation, brilliant control and command. But at its heart is one particular figure, a legend ever since. The RAF fighter pilot. And one particular plane - a piece of machinery that has almost mythic historical glamour - the Supermarine Spitfire. Accompanying a Channel 4 series of the same name, "Spitfire Pilot" reintroduces us to the few that flew in the Battle of Britain and includes interviews with 25 of the 35 remaining veteran Spitfire pilots. Combined with a historical narrative of the events surrounding the Battle of Britain, the reader learns what is was like to fly a Spitfire and to experience combat flying at its most visceral. Illustrated with over 80 photographs and contemporary archive material, "Spitfire Pilot" provides a vivid portrait of the fighter boys and their finest hour, their planes (including Spitfires, Hurricanes and Messerschmitts) and Fighter Command - RAF versus the Luftwaffe. |

Douglas Bader

| | |
| --- | --- |
| | Pen and Sword Books are proud to be re-issuing this the only book that the legendary 'legless' ace Douglas Bader (immortalised by the film Reach For The Sky) wrote. He tells the inspiring story of the Battle of Britain from the viewpoint of 'The Few'. Using superb illustrations he traces the development of the Spitfire and Hurricane and describes the nail-biting actions of those who flew them against far superior numbers of enemy aircraft. As an added bonus, other well-known fighter aces including Johnnie Johnson, 'Laddie' Lucas and Max Aikten contribute to Douglas's book, no doubt out of affection and respect. This is a really important contribution to RAF history by one of the greatest - and certainly the most famous - pilot of the Second World War. |

Ian Duncan Smith (Foreword), Group Captain W.G.G. Duncan Smith

| | |
| --- | --- |
| | Group Captain Duncan Smith flew and fought in front-line operations continuously from the Battle of Britain through the struggle for Malta, the invasion of Italy and the liberation of France. In this personal and exhilarating account, the reader experiences first hand the dramatic story of the air war from the cockpit of the now legendary spitfire. |
Find more aviation books, videos and DVDs in our Gift Directory
DVDS AND VIDEOS
Find more aviation books, videos and DVDs in our Gift Directory